| | | |
| --- | --- | --- |
| " | Let me tell you the dark truth about the world: monsters exist. However, they're not what some might think. They're not creatures waiting to scare kids from the closet. They're not predators acting on instinct. They're not some cryptids in some unexplored part of the world. No, they're far worse than that. They're people. They are really sick people who do these sick twisted things. Acts like torture, genocide, even rape. These people don't give a damn about anyone but themselves and their own dark, wicked desires. Any people they pretend to care about are only disposable if they aren't useful to them. These people have no goodness, no regret… no conscience. | " |
| | ~ A made-up quote I made about the definition of a monster. | |
This is your user page. Please edit this page to tell the community about yourself!
Sandbox
My Pure Evil Proposals in the Future
Villains That I View As Pure Evil
Villains That I Don't View as Pure Evil
Skylanders Academy: Strykore - I remember binge-watching the series and despite his twin brother, Master Eon, describing him as "pure evil", Strykore doesn't qualify; he's not even close to qualifying. Simply put, he's a generic dark lord who wishes to conquer the world by destroying the Core of Light so as to shroud the Skylands in darkness. There's not even an indication that he is aware that his light-siphoning and destroying the Core of Light would destroy the balance between lightness and darkness, and while he sparked the Great War eons ago against Master Eon and Kaossandra, there is no mention of any casualties. He only slightly darkens the tone of the series and even then he has numerous moments where he's Played for Laughs. This is especially true concerning interactions with his own nephew, Kaos, and Glumshanks, and even with Strykore imprisoning Kaos in a submarine in the ocean when he's outlived his usefulness when they take him more seriously afterwards, then comes the scene where he tries to get his Glumshanks clones to destroy the Core of Light, but they don't take his orders seriously at all and just wander off doing their own thing; Strykore only laments about the situation and does nothing to stop his army from leaving.
Jurassic World: Fallen Kingdom: Eli Mills - Even with the following being said, it doesn't mean that he will never count; there's a DreamWorks and Netflix kid's series named Jurassic World: Camp Cretaceous taking place during and after Jurassic World and before Fallen Kingdom. If Mills appears again and his crimes are expanded upon, perhaps he'll finally qualify as PE after all these years.

While one of the worst villains in the franchise and a hateable scumbag, he's ultimately just another generic greedy businessman. He's the first human in the film series to be a murderer, but all that does is make him a Hate Sink, not Pure Evil. His endgame goal is just standard "weaponizing dinosaurs for warfare" and it is never made clear if that would cause untold casualties, and if it would, there's no indication that Mills is aware of it. I've rewatched that scene with the Indoraptor and Henry Wu just tells Mills, "He's a prototype" instead of, "If he's sold off, you have no idea how many people are going to die". Also, when the Indoraptor kills two of Mills's guards and the latter ran for his life, that could've easily been Mills thinking, "I have to escape from this dangerous hybrid who's been set loose" and not, "I've found out what could've happened if this hybrid was sold, but what do I care?"
Besides that, he also fails the heinous standards of the series itself due to many dinosaurs, including the Indominus rex and Indoraptor, killing far more people than he ever did, as well as the Scorpios rex which was killing dinosaurs left-and-right and causing chaos in the natural order of Isla Nublar. Even Ian Malcolm himself, one of the main characters of the franchise, convinced the government to commit genocide on the dinosaurs via inaction by deliberately leaving them to die from the eruption of Mount Sibo on the island, and he has far less resources than Mills. This makes him even worse than Mills, as dozens to hundreds of dinosaurs died in the eruption as a result, which caused Mills to have his mercenaries capture many of them off of the island for his auction, so it can be said that Malcolm was indirectly responsible for the dinosaurs being unleashed upon the world in the first place due to his attempted genocide.

Planes: Fire & Rescue: Cad Spinner - I remember having proposed this scumbag and I deeply regret it. Granted, his actions do almost cause the deaths of hundreds of his own tourists, but he actually didn't do very much to stop the firefighters from getting their water supply. All he did was reroute the main water supply to the Fusel Lodge, and all he was told from André was that the firefighters needed the water to fight the fires, nothing about the tourists potentially dying. If he really wanted to stop them, he would've done worse. The argument I had concerning him and the tourists came from a simple misunderstanding because of how large the smoke got by the time he rerouted the water and the fact the tourists didn't leave yet, making his supposed awareness of the tourists' demise during his conversation with André nothing more than Fridge Horror. In fact, it's even possible that from his perspective, everyone already left. As it turns out he's just another generic Hate Sink with zero knowledge on how many deaths would be caused by his carelessness, just like with Eli Mills and the film version of Tortoise John.
Drafts
Sauron (Hideous Treachery)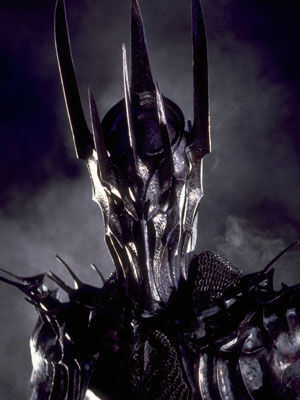 This is my first Pure Evil proposal here in this wiki, as it comes from a fanfiction work that I've come to enjoy after having read it a year ago. Originally, Pure Evil proposals for this wiki specifically were only allowed in Discord, but things have changed since then, so… here I am. So, without further ado, let's get right into it. This is Sauron from the fanfic Hideous Treachery.
What's the Work?
Hideous Treachery is a Rated T Middle-earth fanfiction that contains some very dark detail, yet still has a compelling plot and symbolic message. This is about Frodo Baggins, who claims the One Ring for himself after tossing Gollum into Mount Doom, only for him and Samwise Gamgee to be captured by the Nazgûl and taken to the Dark Lord himself… and things only get worse from there.
Who is the Candidate?
Sauron. Yes, that Sauron. Basically, he's the same Sauron who committed all of the crimes that he's already committed in The Silmarillion, still a former servant of Morgoth, still the second Dark Lord of Middle-earth, but in this fanfic, he does enough to get a separate page, so I shall explain it in detail.
What Has He Done?
In the first chapter, "Mount Doom", ???
Mitigating Factors
Heinous Standards
Final Verdict